Return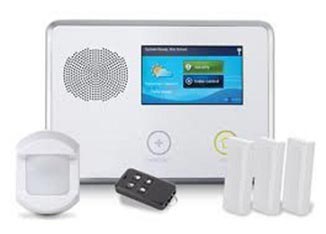 2 GIG SYSTEM :
2 GIG GO CONTROL
The system comes with a user-friendly 2GIG color touch-screen control panel capable of WIRELESSLY controlling all components in your system, and which can also be configured to control additional lighting, HVAC, and other Z-Wave appliances you might want to add to your system.
Smartphone Controlled
We live in a fast-paced world, which means we're not always home. With this in mind, it's always possible to forget to arm your system, or, if there's been an intruder and you're away from home.
With the 2GIG GO CONTROL you'll be able to use any internet-ready web browser or smartphone (iPhone, Blackberry, etc) to access your 2GIG GO CONTROL security system from anywhere in the world, at anytime of day. So whether you'd like to arm, disarm, check the status, or control any of the kit's included or additional components, you can do so without needing to rush home, or worrying that your system is working properly.
GSM RADIO
Additionally, the risk of cut phone lines becomes a thing of the past with the system's GSM radio communication technology. No longer needing a residential phone line at all.